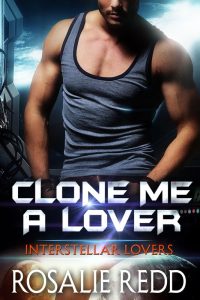 Love is a dangerous, forbidden emotion.

Human clone Angelo Thirteen craves something illicit—to fall in love. When a tenacious female Altonian retrieves his escape pod from the rubble of a shipwreck, he may just get his chance. Drawn to her determined spirit and mesmerizing golden eyes, he must pierce the battle thickened walls surrounding her heart to uncover what he covets most. 
Elle cares about two things in the universe—her ship and her brother. When her sibling is imprisoned on a savage ice world nothing will derail her from her recovery mission, that is, until she rescues a sexy human clone from the icy coldness of space. Falling for his tender, sensuous nature wasn't part of her plan and now she must choose between saving her brother from Alta's prison or risking her heart.
Lose yourself in the Interstellar Lovers series with this delicious tale of sensual discovery and longing.
After finishing a rewarding career in finance and accounting, it was time for Rosalie Redd to put away the spreadsheets and take out the word processor. She pens paranormal, science fiction, and fantasy romance in her office cave located in Oregon, where rain is just another excuse to keep writing.
You can also find Rosalie on www.rosalieredd.com and facebook.com/rosaliereddauthor. Check out her books on AMAZON.