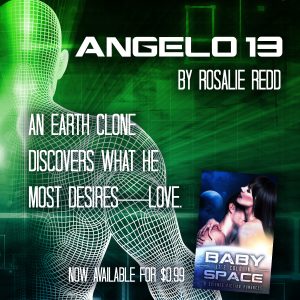 Angelo 13
Born in a clone farm, Angelo 13 hungers to escape Earth and its oppressive laws forbidding emotions—rules resulting from the devastating biotech war of 2364. While transporting a group of terraformers to Iridis the unthinkable happens. He finds himself lost in the cold reaches of space with a limited supply of oxygen and only his deepest fear—loneliness—to keep him company, that is, until a tenacious, young female Altonian crashes into his life.
Elle must acquire the credits to pay off the debt on her ship and release her brother from prison or he'll serve three years in the mines on their ice world Alta. While she races along the interstellar trade route to obtain a rare shipment of coveted numitite crystals, she encounters an escape pod with a sexy human male aboard who rocks her world and makes her question what's really important.
After finishing a rewarding career in finance and accounting, it was time for Rosalie Redd to put away the spreadsheets and take out the word processor. She pens paranormal, science fiction, and fantasy romance in her office cave located in Oregon, where rain is just another excuse to keep writing.
You can also find Rosalie on www.rosalieredd.com and facebook.com/rosaliereddauthor. Check out her books on AMAZON.