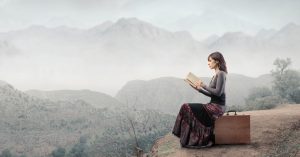 Like love, the SFR Universe is vast and nearly infinite. There are couples falling into lust and love across the whole of space and time, in alternate dimensions, in alternate timelines, in post-apocalyptic futures. No matter the location or time, love is the one continuum.
Finding your next romance can be like an adventure, and sometimes, you're looking for more than one story. A single title is just not enough! Especially in romance, reading a series extends the pleasure of one HEA into many. To that end, we've compiled a list of SFR series (and a few stand-alones) for you to browse in anticipation of your next launch into this special journey.
We've listed the authors* alphabetically and linked their names to their websites, whenever possible. The dates are not completely accurate, in part because many older SFRs were originally published by small presses that have folded, and the authors are hard at work re-releasing titles either independently or through another press. Most of the books on the list though are currently available. They range from serious to silly, sweet to salacious.
Venture forth! You next favorite author and series are just a few links away.
*Did we miss someone special, an author, a much-loved series, or a title that needs to be added to our list? Drop us an email (sfrshootingstars@gmail.com) with "SFR LIST" in the subject line so we can add the author/series/title. This list will be updated periodically, possibly irregularly (we're not just readers, we're writers too–so busy, busy!) to accommodate new releases.