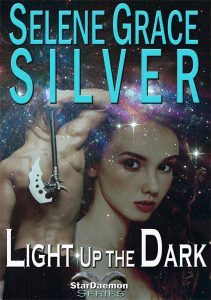 Light Up the Dark: A StarDaemon Novella
Twenty-something girls just want to have fun. How is Nadiah supposed to explore her sensual side when her overprotective father is a powerful telepath who reads and controls the mind of any potential male? An impulsive joy ride down to Jagron's sex palaces is her first opportunity to take a lover, but instead, she wakes up trapped in a space cell with one huge, mute alien. By the time they escape their kidnappers, she'll have more than a solo trip dirtside to explain to Daddy.
Want to escape? Selene Grace Silver writes contemporary, paranormal and science fiction romances that follow extraordinary characters on the path to love.
Her science fiction series StarDaemon (releasing titles Winter 2016/Spring 2017) explores the love lives of a group of hybrid humanoids rebelling against institutional slavery during an intergalactic political collapse. Her paranormal series Witches and Warlocks of Los Angeles shadows modern day sorcerers who must master their powers to shift dimensional reality and find their soul mates, in order to defeat a centuries-old enemy. Finally, her contemporary romances follow lovers traipsing across the geographical and geological boundaries of the Western Hemisphere, from the sunny coasts of Southern California to the rainy Highlands of Scotland, to the frozen plains of the Upper Midwest to the cobblestone streets of Europe. No matter where Selene's characters go, their journeys end in love.
Selene has an MA in creative writing and is a member of the Romance Writers of America. She believes in two true things: love and the power of stories. Everything else is up for debate. 
Find Selene on her website at selenegracesilver.com and check out her books on AMAZON.