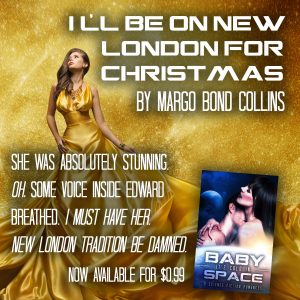 I'll be on New London for Christmas
Edward Sullivan, Duke of New Wiltshire, is far too busy trying to drag New London into the twenty-eighth century to spend time finding a wife. Unfortunately, keeping his new post as Ambassador to the Coalition depends on remaining a Peer, and to keep his dukedom, he has to at least look like he's on the marriage market. When the Coalition sends him a beautiful Marine to act as his personal bodyguard during negotiations, he sees a chance to buy some time, if only she'll agree to play along.
When Private Gabi Esser joined the Galactic Coalition Fleet Marines, she had dreams of seeing the universe. Instead, she got posted to the Achilles, a battleship past its prime on a milk-run assignment in the dullest end of the galaxy.  To make matters worse, she's sent to New London—the most backwards, useless planet in the Coalition, as far as Gabi can tell—to play bodyguard to one of its silly nobles in the midst of its most ridiculous holiday season. And now he wants her to pretend to be his date at several events.
They can carry this off without falling in love.  . . but only in their dreams.
Margo Bond Collins is a New York Times and USA Today Bestselling author of paranormal romance, contemporary romance, urban fantasy, and paranormal mystery.
She lives in Texas with her daughter and several spoiled pets. Although she has a Ph.D. in eighteenth-century British literature and teaches college-level English courses online, writing fiction is her first love. She enjoys reading urban fantasy and paranormal fiction of any genre and spends most of her free time daydreaming about heroes, vampires, ghosts, werewolves, and the women who love (and sometimes fight) them.
You can learn more about her at MargoBondCollins.net or look for her books on AMAZON.