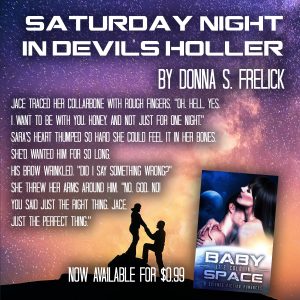 Saturday Night in Devils Holler: A Contemporary Science Fiction Romance
Agents of the Interstellar Council of Abolition and Rescue have tracked a slave-trading criminal across the galaxy to his latest location—Earth, where the pickings are easy and profits are guaranteed. Mingo County Deputy Sheriff Jace McCoy has a stack of cold cases on his desk—dozens of lost souls that have gone missing without a trace from his rural West Virginia jurisdiction. There's a kidnapper stalking the wintry mountain hollers, a killer that has someone close to Jace's heart next on his list. To save her, he'll need Rescue's help, and a whole new way of thinking about the stars.
Donna S. Frelick has been a journalist, a Peace Corps Volunteer and an author of STAR TREK fan fiction. She was an RWA® Golden Heart® Double Finalist in 2012 for the first two novels in her contemporary SFR Interstellar Rescue series. Book 3 in the series, Fools Rush In, launched October 18, 2016 from INK'd Press.
Find her at http://donnasfrelick.com; blogging at http://spacefreighters.blogspot.com; on Facebook at http://www.facebook.com/DonnaSFrelickAuthor and on Twitter @DonnaSFrelick.